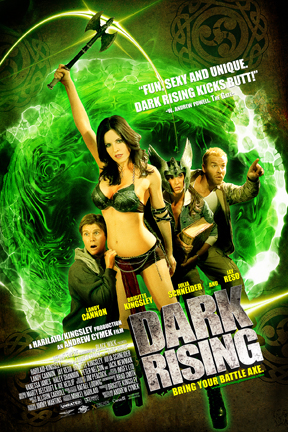 A broken heart, a battle axe, a demon and a lesbian ex-fiancée…
Jason Parks' life goes from bad to worse as a series of supernatural events turn his dream of reconciliation with ex-fiancée Jasmine into a portal seeking, demon hunting nightmare. With a desperate attempt to save his fizzled-out relationship, Jason orchestrates a camping trip with the help of his best friends Ricky – a ladies' man who shoots "1-900" commercials for a living, Marlene – a long-time friend and yoga instructor and Renee – a book worm with a knack for witchcraft.
Each with their own agenda, they convince Jasmine to join them for a weekend of fun in the sun. Unbeknown to the group, Renee's been having reoccurring nightmares of Summer Vale… a little girl that disappeared in town over twenty years ago, and decides to use the getaway to contact her spirit. Also unknown to the boys, Jasmine and Marlene have become a hot item. They join in the fun and humor Renee's "hocus pocus" while making a little magic of their own.
The fun and games quickly turn to life and death when Renee's ritual works and the little lost girl, Summer Vale bursts onto the scene…
She's all grown up…
She's armed with a battle axe…
And she's not alone…
Visit The Store to purchase.
For more information on all things Dark Rising please visit the Wikipedia page.