Monday, August 10, 2009 at 01:52PM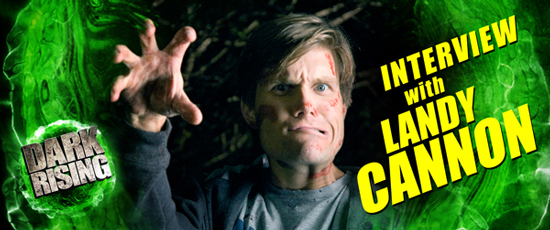 With Dark Rising being released in the U.S. on August 11th and production starting on Dark Rising 2 in September, we thought it a perfect time to talk with Dark Rising star Landy Cannon about life, his daughter and work as an actor.
When did you start acting?
Amateur – Out of the womb (Did some of my best work) Professionally – 1996
How did you get into the industry?
It was sort of a transition from modeling to acting. My modeling agent kept telling me I would be perfect for T.V. They started submitting me for commercials and bit parts in movies and I started booking them. It was way more fun. I wasn't a very good model. I drank beer. (Heavens to Betsy) Oh dear!
What was your first gig?
It was a really low budget film school project. I had like 5 lines and I thought I was the star. (I wasn't) I wondered where my trailer was my first and only day on set. I think they gave me a corner in a make shift waiting room and fed me cold pizza. (Little did they know, I Love Cold Pizza! Ha! In their face!)
Did your parents approve of your career choice?
They've always supported me in anything I've wanted to do. I'm sure they would've liked me to be a rocket scientist, but when they see me on T.V. or the big screen, even when I do a voice over for the radio they get sooooo excited. It's adorable.
What's been your greatest disappointment in the industry?
I've had so many- one that stands out is getting my first lead in a film and three days before flying out to location the producers lost their financing. Ouch!!!! It's happened a few more times since. Making movies is hard…don't let anyone tell you different.
What's been your greatest achievement to date?
Personally – the birth of my daughter, Ariella. Professionally – The Dark Rising Franchise. It gave me great joy to go to work everyday, create and play!
Strangest day you've had on set?
I've had lots of weird things happen on set. I played a Porn star once in a T.V. show. I had a scene with Alicia Klass, the real life porn star. She was trying to go mainstream with her acting career. She came on set for our scene which was a simulated sex scene and dropped her robe and yelled " Alright, who am I f*#king?" It was a very interesting afternoon of shooting. Actually she was very nice and oddly normal.
Tell us about working with Mercedes McNab on Medium Raw?
Mercedes was very laid back. She's a Pro and easy to work with. I've worked with a lot of young stars and she is "cream of the crop cool"!
What are your aspirations for the future?
Personally – Live a good life, full of Joy and Laughter. Professionally – I know it's a cliché' but I just want to keep working. Do good work. Tell stories and hopefully entertain while I'm doing it.
Have you ever been nominated for an award?
Yes, I had my first nomination for a Canadian Comedy Award. Male Lead in a Feature for "Dark Rising". I lost to Seth Rogen. (Whatever… Like he's funny! LOL)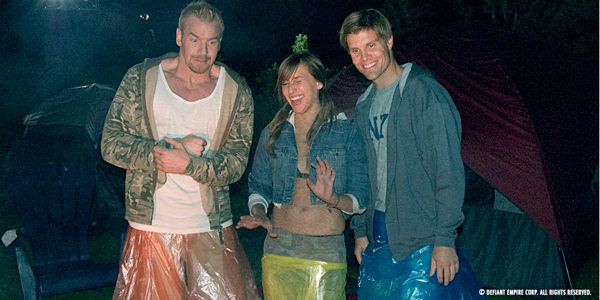 tagged
Dark Rising,
Landy Cannon
in
Interviews