Tuesday, August 11, 2009 at 01:57PM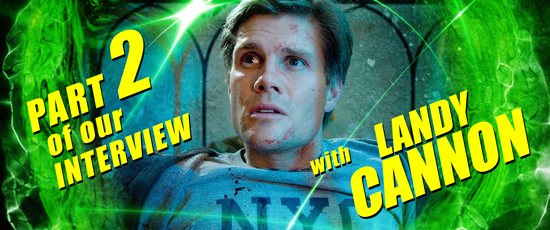 Here's the remainder of Dark Rising's leading man Landy Cannon.
If you could play any character on screen what would it be?
I love the old Spaghetti Westerns with Clint. An uber -cool character like 'the man with no name' would be the ultimate. I think this genre of simple story telling through a gritty western needs to be revisited more. I've always wanted to do a Western.
We've heard you've just embarked on a new role – as daddy- How's that?
Being a father has changed me only for the better! I look at my daughter and the world disappears. She's a gem.
Do you get nervous before a big shoot?
Yes… Nervous, but very excited at the same time!
What's your Favourite Television Show?
Californication— Gotta love Hank Moody!
What's your favourite film of all time?
If I have to pick one, it's gotta be "Forrest Gump".
What Director would you love to work with?
Clint Eastwood.
If you had to chose a role "Behind the Scenes" What would it be?
Director of Photography(DOP). Great Cinematography moves me.
What hobbies do you pursue?
I love woodworking and any type of sport.
What's the most fun you've had working on a project and Why?
This one's easy – Dark Rising. Hands Down! I've always said: "in those woods in Pickering, Ontario, Canada magic happened. " It's what film making should always be. The producers made that movie for virtually nothing. I'll have life long friends from that shoot. It's hard to explain that magic. Just think, being a child and having the best time at camp for 3 weeks. Beautiful.
If you weren't an actor what would you be?
A carpenter.
JUST FOR FUN:
Biggest Fear? Being a Carpenter! ( See last answer)
Who's your celebrity crush? No one touched Farrah Fawcett in the 80's, WOW!!!!
What's your comfort food? My wife's Italian — Anything pasta related. Fresh Cannelloni, Ravioli, Rigatoni. Has to be homemade though. Mmmmmmmmm!!!!!
Do you believe in Miracles? I witnessed one. The birth of my daughter. That'll blow your shorts up. Incredible.
Do you believe in Aliens? I think we would have to be pretty self centred to think we're the only ones here!!!!
What's the craziest thing you've ever done? Snowmobiled off a cliff ,that I didn't know was there, on top of a mountain on the west coast. Thank god it was powder snow.
Tell us a secret? I'm missing a toe on my right foot. ( Hydro Truck + 7 yr old = One less toe.)
What Click were you a part of in Highschool? Admittedly, the Jocks, but I liked pretty much every one and had friends from all different clicks.
What Historical figure would you like to meet and why? Paul Newman. Because he's Paul Newman!
Who's you're favourite superhero? Thor! I like sayin' 'Thor'! The long hair is cool.
What picture do you have on your screen of your phone? My daughter.
What website do you frequent most often? Fitnessblackbook.com Rusty knows his shit!
Anything else you'd like to say? People, people, people… be kind to one another, life is waaaay too short!!!! I want to shout this from the top of a mountain daily.
tagged
Dark Rising,
Landy Cannon
in
Interviews