Saturday, September 26, 2009 at 01:59PM
Hey everyone! Here is a quick interview with the beautiful and talented Julia Schneider. Enjoy!

NAME: JULIA SCHNEIDER
Nickname: Jules, Schneider, Jube Jube
When did you start acting?

I began acting in the film and television industry at the age of 13.

What was your first gig?

My first gig was a Kellogg's Corn Pops Commercial.

Did your parents approve of your career choice?

My parents have been my greatest supporters. They never forced me to do
anything other than to eat all the peas on my plate.

What's been your greatest achievement to date?

To date my greatest achievement is a 2008 Nomination for a Canadian Comedy
Award for Best Female in a Feature. (DARK RISING)

What's been your greatest realization about the industry?

I have learned a lot over the years about the industry, but my greatest
realization has been that Casting Directors don't decide who gets the job.
It's the Network Executives and the Investors. They are the people who know
nothing about acting. It's not so much about talent. It's more about their
vision of what they think the character should look like. Crazy huh?

What's been your craziest day on a set and why?

The craziest days I've ever had on set were the ones filming DARK RISING.

We filmed all night long and slept all day. It was September, and though all
the actors were wearing summer clothing and bathing suits, the temperature
at night was a cold minus 5 degrees. Brrrrr!

Tell us about your experience on American Pie: Beta House.

I was very fortunate to have been apart of the American Pie phenomenon.
Before being cast in a role, I worked that summer as a reader for the
American Pie auditions. I developed a friendship with the director and
producers of the film, and that's when they had offered me a role in the
movie. Working on such a classic comedy serial was pretty incredible.

Tell us about your experience on Dark Rising.

I remember the day I auditioned for Dark Rising and I have to say that I
never would have thought to be sitting here three years later, still talking
about the film, and going into filming the sequel. I am so fortunate to have
this Dark Rising family as well.

What's your best quality?

I have made the change to be an honest and up front person.

What's your biggest fault?

I tend to sweat the small stuff. I'm Learning how to control that.

If you wrote a book about your life – what would be the title?

"The Relationship Stories – from 2 weeks to 2 years"

(it's in the process of getting published)

Where were you born?

Toronto, ON

What's your favorite television show?

Entourage.

What's your favorite film of all time?

Not sure about 'of all time" but one that I can watch over and over again is
Empire Records.

What director would you love to work with?

I'd love to work with Danny Boyle, Darren Aronofsky, Darren Lynn Bousman,
and Warren P. Sonoda.

If you had to choose a role "behind the scenes" what would it be?

Director of Photography or Director.

Who's work do you admire?

As for actors, I admire Rachel McAdams & Ben Foster, two young actors who
paid their dues and are highly respected. In my opinion.

What hobbies do you pursue?

I went to University for Photography, and instead of making it a career
choice, it has become a serious hobby.

If you weren't an actor what would you be?

A talent agent and/or director.

Who do you attribute your success to?

I attribute my success to my dad & mom, my teachers, and myself.

What's your advice to someone new coming into the industry?
Be patient. It may or may not happen for you as an actor, and that's okay.
Be realistic, use your brain, and don't annoy your agent.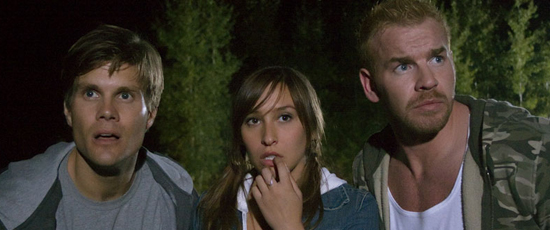 JUST FOR FUN:
1. What's your biggest fear? Death.
2. Who's your celebrity crush? Patrick Dempsey & Jeremy Piven
3. What's your comfort food? Ice cream
4. Do you believe in miracles? I believe in fate.
5. Do you believe in aliens? No.
6. What's the craziest thing you've ever done? If I did something crazy I
probably wasn't sober and can't remember.
7. What's your motto? Meditate and Destroy.
8. What's your best physical attribute? People tell me they are my teeth
and lips.
9. Tell us a joke. – A chicken & an egg just had really hot sex. The egg
rolls over to light up a smoke – and the chicken says "well, I guess we've
answered THAT question!"
10. Tell us a secret. – If I told you a secret, it wouldn't be a secret
anymore.
11. What click were you a part of in high school? All of them. I 'clicked'
with everyone.
12. What's the last video game you mastered? – ha, that's funny question.
I'm so horrible at video games that I have mastered the art of failing them!
13. What picture do you have as your home screen on your phone? New York
City Skyline
14. What website do you frequent most often? Facebook.
15. Are you on twitter? If yes, who do you follow most? – @shhdontellsteve
@jeremypiven @josiedye @therealrusselp
16. What's the last book you've read? I don't finish books, I just start
them, and I have about 4 on the go.
17. What's your favorite magazine? Nylon Magazine
18. Is there anything else you'd like to add? 7 + 3 = 10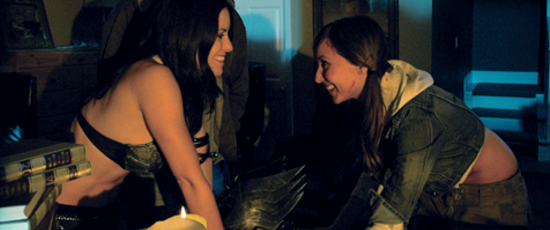 tagged
Dark Rising,
Julia Schneider
in
Interviews